Safety has a feeling all its own, and that's what's at the heart of McAfee+. 
We created McAfee+ so people can not only be safe but feel safe online, particularly in a time when there's so much concern about identity theft and invasion of our online privacy.   
And those concerns have merit. Last year, reported cases of identity theft and fraud in the U.S. shot up to 5.7 million, to the tune of $5.8 billion in losses, a 70% increase over the year prior. Meanwhile, online data brokers continue to buy and sell highly detailed personal profiles with the data cobbled together from websites, apps, smartphones, connected appliances, and more, all as part of a global data-gathering economy estimated at well over $200 billion a year. 
Yet despite growing awareness of the ways personal information is collected, bought, sold, and even stolen, it remains a somewhat invisible problem. You simply don't see it as it happens, let alone know who's collecting what information about you and toward what ends—whether legal, illegal, or somewhere in between. A recent study we conducted showed that 74% of consumers are concerned about keeping their personal information private online. Yet, most of us have found out the hard way (when we search for our name on the internet) that there is a lot of information about us that has been made public. It is our belief that every individual should have the right to be private, yet we know too many individuals don't know where to begin. It is this very worry that made us focus our new product line on empowering our users to take charge of their privacy and identity online. 
McAfee+ gives you that control. 
Now available in the U.S., McAfee+ provides all-in-one online protection for your identity, privacy, and security. With McAfee+, you'll feel safer online because you'll have the tools, guidance and support to take the steps to be safer online. Here's how: 
You'll see where your personal information appears in risky locations online, such as people search and data broker sites that sell this information to advertisers, in addition to hackers, spammers, and thieves. Then McAfee+ helps you remove it

(or depending on the plan we do it for you). We call this Personal Data Cleanup.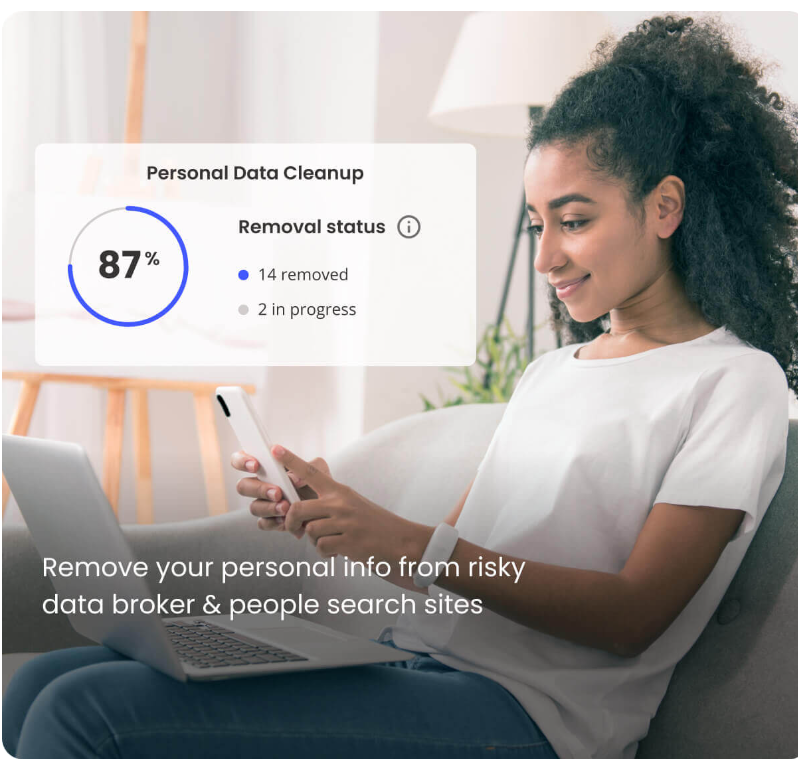 It protects you by scanning the dark web for places where your personal information may appear. This way you can k

eep an eye on your email addresses, social security number, credit card numbers, and more on the dark web—and receive notifications an average of 10 months sooner than similar services if your info is found in a data b

reach. This gives you ample time to change your passwords before hackers try to access your account. Depending on your plan, McAfee+ offers you $1M identity theft coverage and credit monitoring services as well for additional peace of mind.

 

You'll also see how safe you are with our industry-first

Protection Score.

It checks the health of your online protection and shows you ways you can

improve your score

so you're safer still.

 
And as always, it all includes McAfee's award-winning antivir

us and device security solution.

 
You can see the entire range of features that cover your identity, privacy, and security with a visit to our McAfee+ page.  
McAfee+ Ultimate offers our most thorough protection, with which you can lock your credit with a click or put a comprehensive security freeze in place, both to thwart potential identity theft. You can keep tabs on your credit with daily credit monitoring and get an alert when there's credit activity to spot any irregularities quickly.  
You'll also feel like someone has your back. Even with the most thorough measures in place, identity theft and ransomware attacks can still strike, which can throw your personal and financial life into a tailspin. What do you do? Where do you start? Here, we have you covered. We offer two kinds of coverage that can help you recover your time, money, and good name:  
$1 million in identity theft coverage and with the assistance of professional identity restoration specialists who can take steps to repair your identity and credit.

 

$25,000 in ransomware coverage, which likewise comes with expert support that can help you determine the severity of a ransomware attack, learn what immediate steps you can take, and determine if a ransom should be paid or if alternative options exist.

 
Starting today, customers in the U.S. can purchase McAfee+ online at McAfee.com in Premium, Advanced, and Ultimate plans, in addition to individual and family subscriptions. McAfee+ will also be available online in the U.K., Canada, and Australia in the coming weeks with additional regions coming in the months ahead (features may vary by region). 
We are very excited about bringing these new protections to you and we hope you will be too.