The devices employees use as they work from home could be the ones that put their companies at risk.
With businesses continuing to support remote and hybrid workplaces, more employees are connecting more of their personal devices to corporate networks, yet these devices aren't always well protected from malware, breaches, and theft—which can affect them and the companies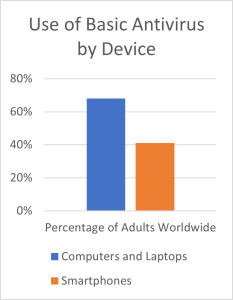 they work for.
Prior to the pandemic, a major topic for employee and business security was BYOD, or "bring your own device." And it remains so. That catchy little abbreviation took root several years ago as many employees started bringing their own devices to work for both personal and business use, whether that was their smartphone for company calls and email or swapping files once in a while with an external drive or a USB stick.
The argument for BYOD is that it potentially increases employee productivity by allowing people to use the devices they're familiar with—plus that company can save on costs by having employees bring their own tech into the office. However, there's a flip side. Because these devices can and often do connect to sensitive corporate resources and data, they can potentially compromise those very same resources and data. Unless they have strong security in place, which they often do not. Employees simply don't always protect their own devices.
Our most recent global research shows that only 68% of adults say that they protect their laptops with basic antivirus protection. Note that basic antivirus does not include comprehensive security software that also protects them from the pandemic and post-pandemic rise in account theft, ransomware, email fraud, and phishing attacks. With this, only 68% of adults employ baseline protection, let alone more thorough protections beyond that. 
This figure drops dramatically when it comes to protecting their smartphones, classically the leading BYOD device in the corporate landscape. Here, only 41% of adults said they protect their phones with basic antivirus. Moreover, only 56% said they protect their smartphone with a password or passcode to unlock it—making nearly half of them an open book to cyber crooks in the event of loss or theft. 
Now, with remote and hybrid workplaces becoming more commonplace, BYOD gets all that much more complicated. Businesses are now faced with an unprecedented number of BYOD devices on their networks. In the U.S. alone, a Gallup poll found that half of the full-time workforce was "remote capable," some 60 million people in all.  
Of them, 53% said they expect to work in a hybrid model moving forward and another 24% to work fully remotely. That means somewhere around 46 million workers in the U.S. will work remotely in some form or fashion and will likely use one or more of their own devices to do so—a clear concern for any security-minded business if these employee devices remain unprotected.  
The realities of BYOD and WFH
In an ideal world, employees would stick to some hard and fast rules about device usage. They'd do their work on one laptop and then use another for streaming shows, doing their shopping, playing games, managing their finances and so on. Yet that doesn't appear to be the case.  
A recent global study found that 55% of remote workers use a personal laptop or smartphone for work at least part of the time. Moreover, this begs the question if the employee is the only one using that BYOD device. After all, they're likely working in their own home, where other family members may use that device to some extent as well, which adds yet more security risks for businesses. With multiple users on a single device, the additional browsing, downloading, emailing, and shopping could expose that device to more security risks than from a single user alone. 
Unlike company-issued devices, employee-owned devices aren't subject to the centralized policies and protections that corporate IT can put in place. This leads to devices on the corporate network that may be without up-to-date antivirus protection, have malicious apps on them, or use browsers with compromised extensions that illicitly gather data on their users. 
Once again, with employees sometimes taking lax, if any security measures to protect their devices, this can present serious risks to the business, such as the dramatic rise in business email compromise. As reported by the Federal Bureau of Investigation (FBI), businesses lost $2.4 billion in 2021 to this form of scam alone. Meanwhile, phishing attacks, device theft, and credential theft all remain painfully common forms of attack on small and mid-sized businesses. 
How online protection for employees makes for a more secure business
One way businesses can address these issues is by helping employees do what they haven't done for themselves—provide them with comprehensive online protection software as a company benefit. 
Comprehensive online protection goes beyond basic antivirus (which as we've seen, only 68% of people use). It covers the three pillars of security—privacy, identity, and device security, and by protecting those three things for their employees on their BYOD devices, companies can then protect themselves.  
A brief list illustrates several of the top ways online protection for remote employees can help keep the business secure: 
1) Protect company information as it travels
If your company doesn't already support one, employees can use a VPN to create an encrypted tunnel when they connect to the company network, which makes it highly difficult for bad actors to intercept that traffic. Our secure VPN uses bank-grade AES 256-bit encryption to help keep data and information safe. 
2) Shield company data and resources from attacks
With one bad click, a phishing attack in email, text, or direct message may give an attacker access to login credentials or to install malware known as a keylogger that can likewise steal usernames and passwords. Safe web browsing features found in online protection can help sidestep these attacks before they happen with clear warnings of risky websites, links, files, and other attachments. 
3) Strong, unique passwords for all
When it comes to employee passwords, no two should be alike. Yet with dozens of logins of their own, in addition to the ones they use exclusively for work, that's a rule few people follow. A password manager can help. It can store, auto-fill, and even generate strong, unique passwords for each account—across computers, laptops, and smartphones. 
4) Digitally shred sensitive documents permanently
Employees can permanently delete sensitive files with an application such as McAfee Shredder™, which removes files so that thieves can't access them. (Quick fact: deleting files in your trash doesn't actually delete them in the truest sense. They're still there until they're "shredded" or otherwise overwritten such that they can't be restored.) 
5) Device protection that goes beyond the basics
Absolutely, antivirus is a must. Comprehensive online protection will include that, and much more. Ours offers that in addition to protection that safeguards your employee's identity and privacy—along with a personalized Protection Score that checks the health of their online protection and provides simple steps to improve their security. 
Think about theft and loss as well
Beyond online protection software, is remote locking and wiping of devices. We've mentioned physical loss and theft of devices as a significant security issue. Many laptops and mobile devices offer location tracking services to help locate a lost device—and yet others allow the owner to remotely lock or even wipe the contents of that device if they fear it's lost for good or fallen into the wrong hands.  
Showing employees how to enable and use these features can further protect all parties involved in such a worst-case scenario. Apple provides iOS users with a step-by-step guide for remotely wiping devices and Google offers up a guide for Android users as well. For laptops, Microsoft and Apple users can enable the following settings:   
Windows: Enable in Settings > Update & Security > Find my device

 

macOS: Setup iCloud on your device. Enable via Settings > Your Name > iCloud > Find My Mac

 
Online protection—good for employees, good for business
By providing employees with comprehensive online protection that complements the security measures the company already has in place, they get the benefit of a far safer time online for themselves. Potentially their families as well. In turn, because they're more secure, the business is more secure—an important point to consider when millions are still working from home on their BYOD devices.